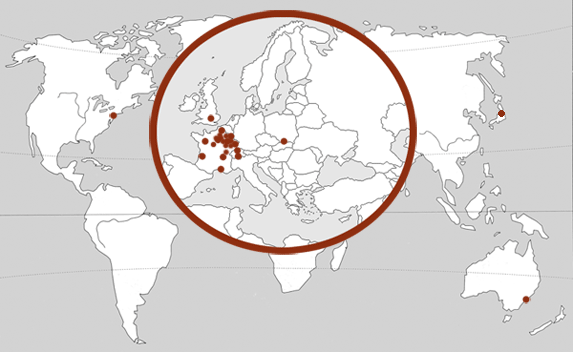 Instruments of the Atelier David Boinnard in the world.



Born in 1958 in Orléans, David Boinnard became, during his youth, fond of music and harpsichord. He went to a cabinetmaking school in Belgium (Institut Saint-Luc in Tournai) and opened in 1978 his harpsichord workshop in Foucaucourt, in Eastern France.
In 1992, harpsichord's manufacturing techniques from the 17th century were unknown. David Boinnard's workshop realized for the first time the copy of a harpsichord made by Tibaut de Toulouse. Everything in this instrument was realized with a total respect of techniques from the 17th century. The harpsichord was inaugurated by Blandine Verlet during the music festival "Musique et Mémoire". The confrontation between the musician and the instrument permitted to develop research about historical tune.
In organology reports, historical texts present different techniques for harpsichords' strings. In 1994, there were no copied instruments made of gut strings. David Boinnard built with Alain Meyer, an organology specialist, a Lautenwerk ("mechanical lute", a harpsichord with gut strings). This instrument achieved years of research in musicology and organology. It also founded a new way to conceive antique instruments never built before.
Aquila, the worldwide leader in gut strings, provided specific strings to the workshop. Enthusiastic criticisms came from the press and from musicians, and the harpsichord is now used for lots of concerts and recordings.
Various visits in European museums and meetings with historians permitted David Boinnard's workshop to increase its expertise in order to anticipate musicians'exigencies.
In 1999, the workshop realized a Virginal, a rectangular harpsichord from the 16th century. The original instrument can be seen in Berlin. Its small size represented a relevant difficulty concerning the construction and the tuning. David Boinnard extended the manufacturing of this Virginal to make it become a study instrument.
The workshop developed two ways of work: fac simile (copy of instruments) from plans or original creations, and creation/restoration of instruments. When the conception of instruments can be only based on prints, the manufacturer must do a historical immersion in order to find ancestral techniques.
In 2002, David Boinnard built a clavicytherium from the Renaissance. The challenge was great: except a draw from Praetorius, there were no known instruments and no documents! He based his work on a useful dimension method noted on the draw. The presentation of this instrument was a total success.
In 2004, he realized a copy of the most ancient keyboard instrument: the medieval clavicytherium of the Royal College of Music of London. Following this work, a conference was organized in order to focus on the manufacture of keyboard instruments from the medieval period. Around 30 specialists were gathered to debate with medieval experts, Denis Morrier (musicologist), Alain Meyer (Organologist), and Emile Jobin and David Boinnard (harpsichords makers).
With his skills and his expertise, David Boinnard is today one of the most relevant experts in the medieval manufacture and the conception of original instruments. From the workshop to the most prestigious scenes, David Boinnard follows his harpsichords and musicians who are willing to share a common passion of music, whether it be in medieval, baroque or renaissance styles.
That is why David Boinnard has been supporting Arte Intime since 2008, an artistic group made of musicians and comedians. Its main objective is to offer intimate musical moments between musicians and the audience in order to reinvent concerts and to change listening habits.